What's up with the cat? We're back, and we have great news! The 4th book in our Mystery Times short story series will release Tuesday, December 15th in print and kindle editions. In a hurry? You can preorder the kindle edition today! YAY!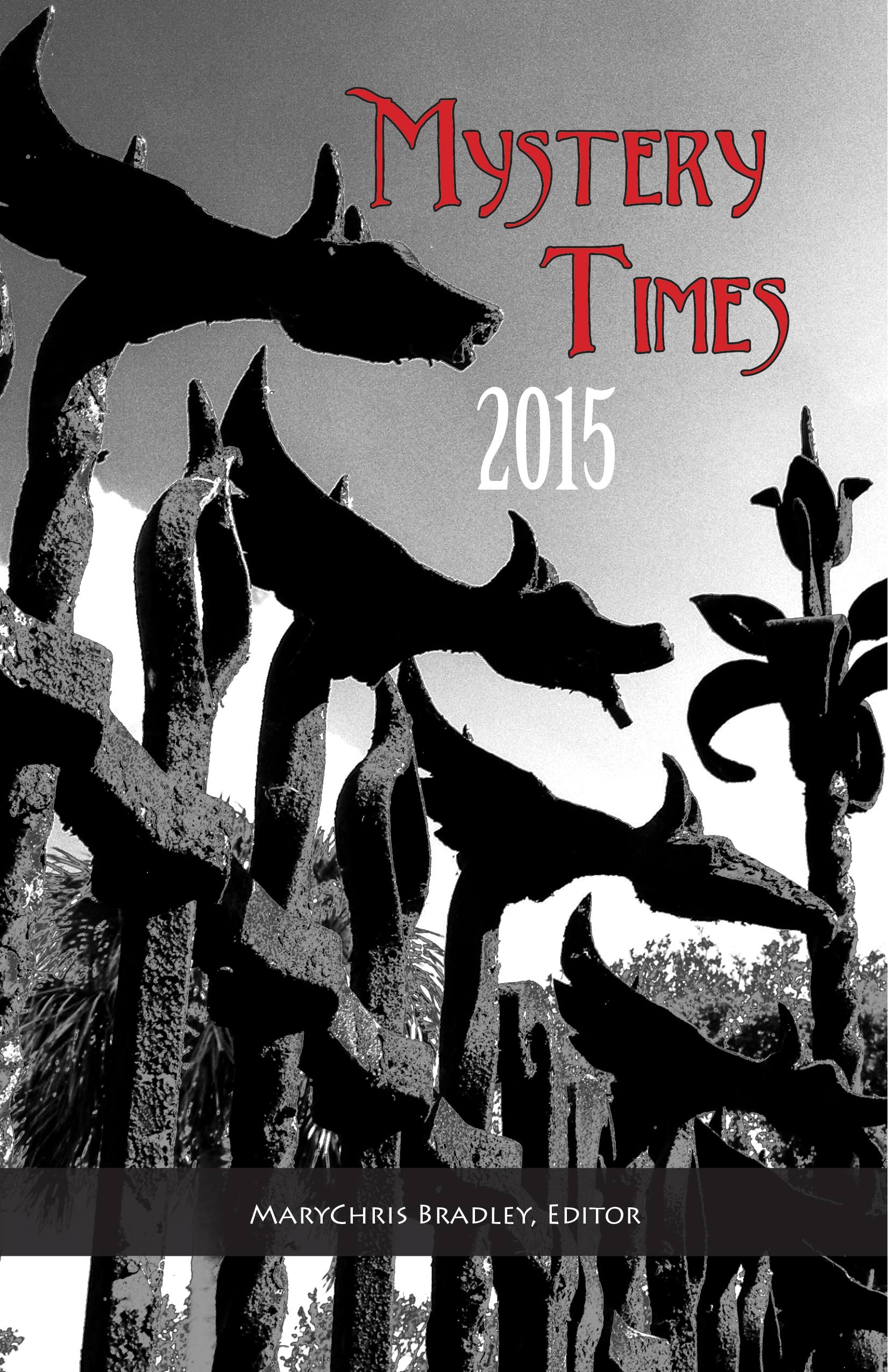 ---
WE'RE OUT OF THE OFFICE
Buddhapuss Ink LLC and its subsidiary, The Book Team suffered a serious loss on November 7th, 2015. For that reason our offices will be closed from November 16th through November 27th and possibly longer. We apologize for any inconvenience this may cause. Please read the following carefully:
Buddhapuss Ink LLC authors: All future projects are on hold while we are out of the office. Rest assured, any projects still in process will be finished as soon as humanly possible. As always we encourage you to reach out to us with any questions or concerns.
The Book Team clients: Unfortunately current projects in process are experiencing delays of one week or more. We are bringing in additional help to begin work on any recently signed work.
Works in process that are past the layout stage, should begin to pass into upload and printing next week (Nov 15th - 20th).
Projects where editing has not begun, will be assigned to another editor and should only experience a delay of a few days.
Projects where editing has already begun will remain with the current editor but will experience delays of one to two weeks but will be given every priority possible.
Marketing & Sales campaigns will go on as scheduled but may be assigned to a new marketer in the short term.
Projects which have completed the layout and upload process will not experience any delay.
Projects which have completed layout, but have not moved on to upload will experience a one to three day delay.
As always we encourage you to reach out to us if you have any questions or concerns.
---
October 20th, 2015
NOW ON SALE!
Shanghaied, the second book in Linda S. Browning's Leslie and Belinda cozy mystery series has released.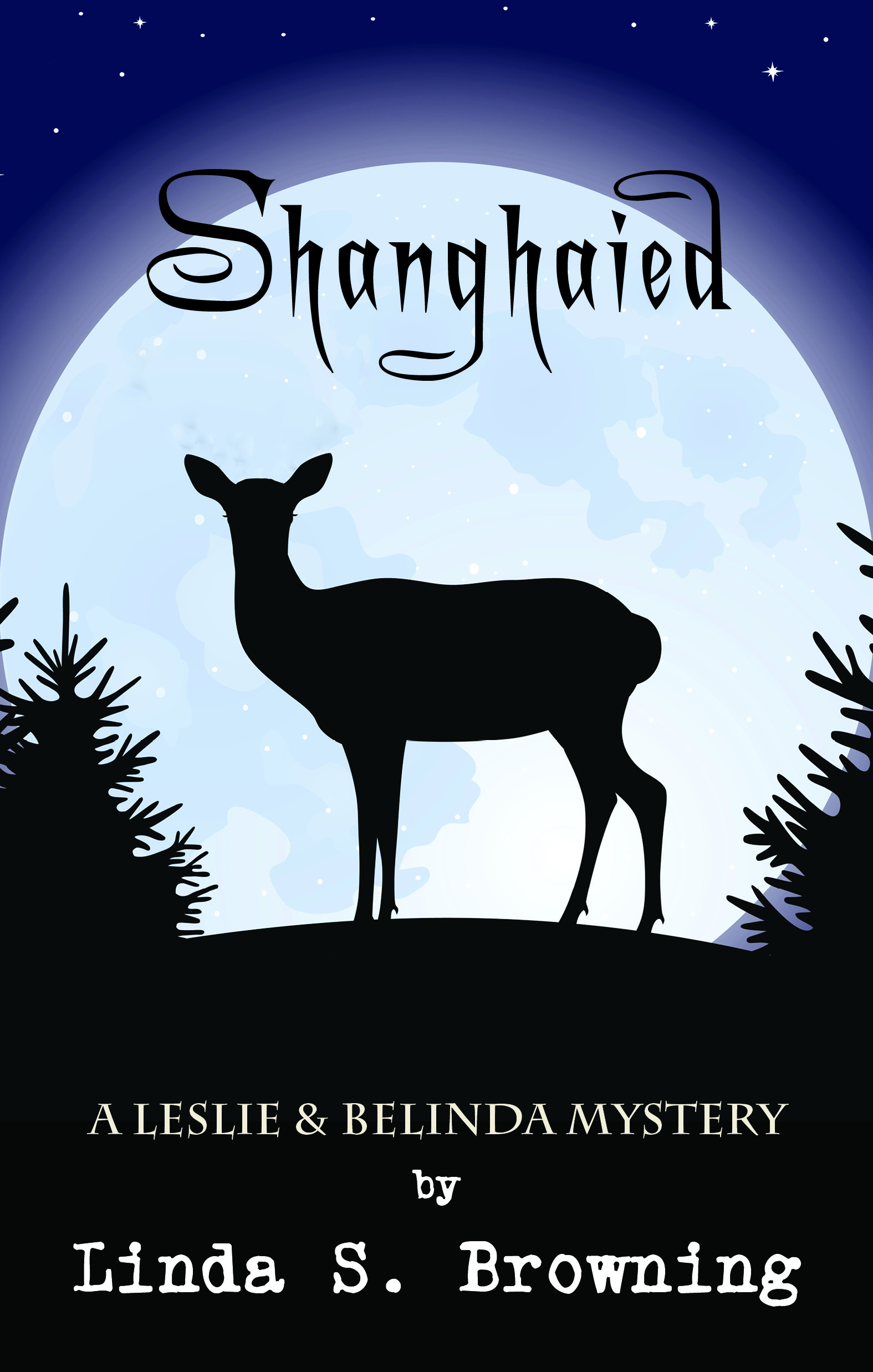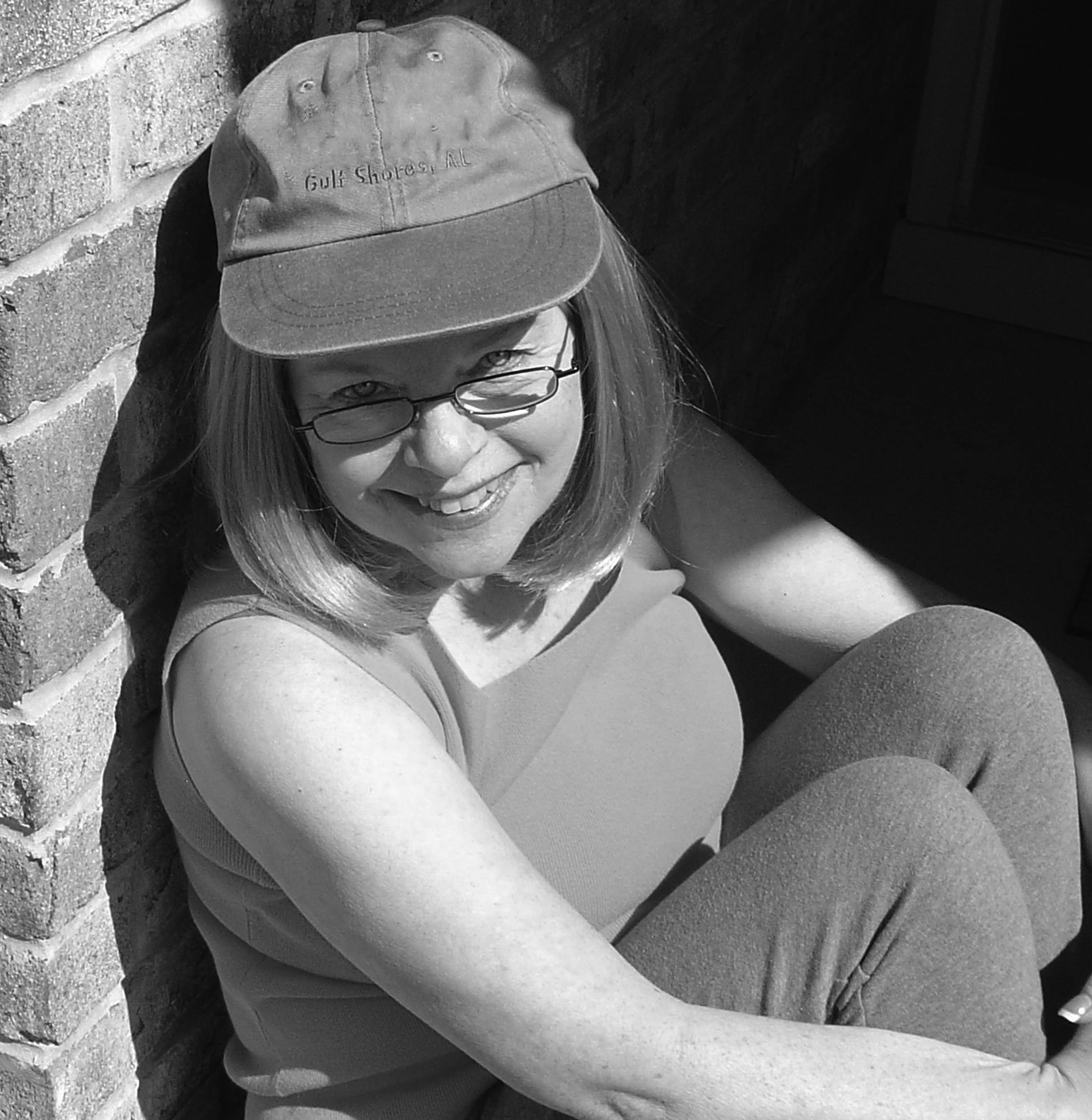 Watch out, that pair of sassy, senior sleuths, Leslie and Belinda, are on the trail again. This time their search for a missing call girl and a disappearing deer named Jane Doe, lands them smack in the middle of quite a condiment of a mystery.
Heads up, you won't want to miss the catsup fight!
---
NEW this Fall:
IN THE CONTEXT OF LOVE, by Linda K. Sienkiewicz, released in paperback and kindle editions on September 8th.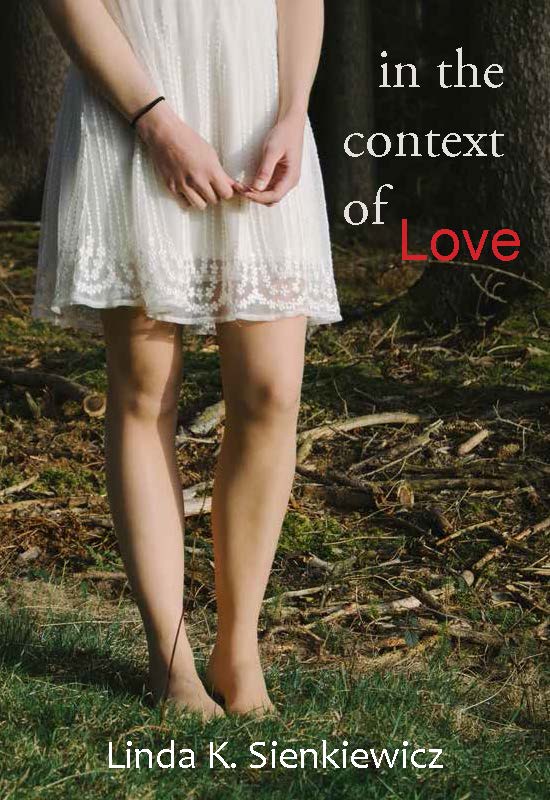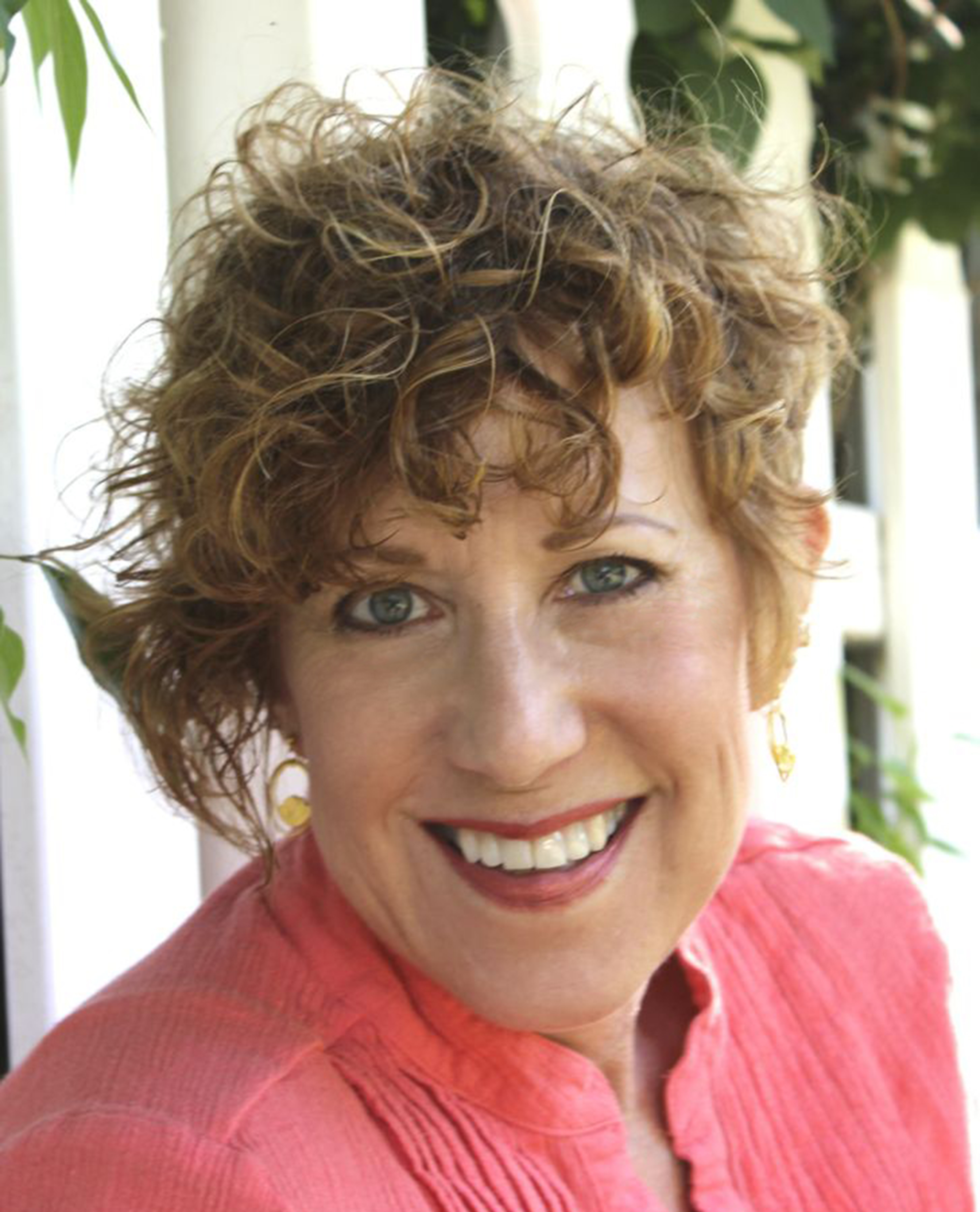 ---
Congrats, Linda S. Browning!
DAREDEVIL
A Leslie & Belinda Mystery
On Sale Tomorrow, Wed 1/14/2015 for just $.99
Move over, Miss Marple; step aside, Jessica Fletcher—there's a new gal on the case, well, two gals, that is. This pair of sassy, senior sleuths, Leslie and Belinda, are on the hunt for a missing girl; and it leads them on a crazy chase through a dark graveyard with Leslie's eight-pound-dog, Riff-Raff, right in the middle of all the action. Buckle up and keep your hands and feet inside the car at all times; it's going to be a bumpy ride!

When the granddaughter of a deceased church member goes missing, the two best friends are determined to solve the mystery and rescue the young woman. It seems no one, including the girl's father, is all that concerned by her vanishing act, but this pair just know something's amiss. Throw in one wandering bear, a flirtatious undertaker, a dustup with a TBI agent, an overweight corpse, and a trip to the Dollar Store for stakeout supplies and you have all the ingredients for one wild adventure. Sticky situations and comedic antics abound when these meddling senior citizens let their curiosity get the better of them.
Need more? Then just CLICK HERE to read a FREE Leslie & Belinda Short Story—NO WAKE
Ready to read DAREDEVIL? CLICK HERE
---
Mystery Times Judges still deliberating!
Finalists to be notified
Monday Jan 12th, 2015
---
** New deadline for submissions : Midnight EST Friday Dec 5th, 2014 **
OPEN SUBMISSIONS CALL Mystery Times 2014
Yes, we're extending the submissions deadline! Last year, we received over 200 entries from new and established authors alike. Never before published, they were gathered together in our third annual Mystery Times collection. Each story was read and rated by our judges using a single set of parameters, but each judge brought his or her own unique talents and tastes to the task at hand.

The quality of the stories was outstanding—so strong that we added two additional stories to the book—and the 2013 book hit the Top 10 on Amazon's BestSeller's lists for both paperback and kindle editions.
So we're doing it again!
Our Mystery Times 2014 seeks new mystery short stories.
Submission Guidelines:
Theme: Mystery—you choose the genre from murder, cozy, soft-boiled, hard-boiled, paranormal. police procedural, suspense, thriller, to amateur detective.
What is a mystery? In a mystery, the main character must track down the truth about an event, often a murder. If the protagonist is in any danger, it usually becomes a problem only as the detective or protagonist approaches the truth. That's your base, how it plays out is up to you!
No gratuitous sex, violence, or foul language.
The competition is open to all writers in English except current employees of Buddhapuss Ink LLC.
Submissions will be accepted from July 15th, 2014 to December 5th, 2014.
You must be 18 or older to enter unless you have written permission from your parent or guardian. PERMISSION FORM
No previously published work(s) or simultaneous submissions please.
Word count should be between 3000-7000.
Send your submissions via email with the subject line "Submission for MYSTERY TIMES 2014" from <your name> with your story as an attached file in .doc (Word) format.
PLEASE INCLUDE in the body of the email:

Your name and contact information
A brief author bio (2-5 sentences)
Entry should be single-spaced in a 12 pt. readable font. We suggest Times New Roman, Courier, or Arial.
Send: Submissions@Buddhapussink.com

NOTE: You will receive an email acknowledging our receipt of your entry within 1 business day. If you don't receive this email, first check your junk/bulk/spam folder, then if necessary please re-submit your entry and change the subject line to: "RESUBMISSION for MYSTERY TIMES 2014".
Submissions that do not follow these guidelines will not be considered.
Notifications will be sent to finalists via email in late December 2014.
There is no limit on the number of entries you may submit. There is no fee to enter.
Buddhapuss Ink LLC reserves the right to close or extend the competition if not enough suitable entries are received.
Winning Selections:
The Ten (10) Winning entries will be published in a showcase titled Mystery Times 2014  to be published by Buddhapuss Ink LLC.
First Place winner will receive a Brand New Kindle, featured placement in the book, and Buddhapuss Ink swag.
Second & Third Place winners will receive featured placement in the book, and a Buddhapuss Ink t-shirt.
ALL WINNERS will receive: two (2) copies of the finished book.
Some winning entries will also be featured on our website, blog, and/or Facebook page.
JUDGES
All entries that meet submission guidelines will be read by and rated by judges. The top twenty (20) entries—based on points accrued—will then go on to our Editorial Review Panel.
The decisions of the judges will be final.
No manuscripts will be returned.
Winners will be notified in late December 2014.
Publication is scheduled for January-February 2015. 
Send your best words our way!
Key dates: Contest ends: December 5, 2014
Winners announced: Late December 2014
Publication: January-February 2015
Send to:
Submissions@buddhapussink.com
---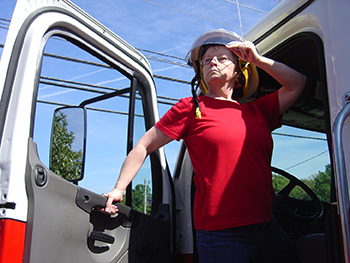 FOR IMMEDIATE RELEASE
June 10, 2014
Trouble is Back in the Form of Two Wise-Cracking Senior Citizens!
Buddhapuss Ink LLC signs 2013 Mystery Times Winner,
Linda Browning
Readers fell in love with them in No Wake, the 2013 Mystery Times Ten winning submission from the charismatic mind of Linda Browning, and well, now they're back! Buddhapuss Ink is pleased to announce that Leslie and Belinda will soon be bringing their wise-cracking ways to an all new mystery series.
Get ready to get down and dirty with these meddling senior citizens as they let their curiosity get the better of them. Sticky situations and comedic antics are sure to abound as Browning sets her characters loose once again. Buckle up and make sure to keep your hands and feet inside the car at all times, it's going to be a bumpy ride!
"Everyone at Buddhapuss Ink is looking forward to working with Linda again. It was a crazy ride the first time, and this promises to be a roller coaster unleashed and off the tracks!" said Bradley. "Her characters are the kind of comic relief that cozy mystery readers love. Think Miss Marple with a penchant for shopping at the Dollar Store. Her stories are fast-paced reads that will leave you rolling on the floor. I want to live next door to Leslie when I retire!"
"When MaryChris Bradley offered me a publishing contract and then told me that I could not run out and blab the news until she made a public announcement…it was like having verifiable evidence of the existence of Santa Claus and then being slapped with a gag order. I was good…I didn't blab too much…husbands, daughters, and best friends are surely exempt from gag orders. Right? All kidding aside, I'm so excited and grateful for this opportunity to write for Buddhapuss Ink."
Browning worked for many years in clerical and supervisory roles at the Clinton Valley Center in Michigan, but later followed her husband to Tennessee when he was asked to relocate for work. They are both happily retired (sort of) and living in a middle Tennessee retirement community. Linda found her love of creative writing again after requesting a laptop for Christmas in 2011. She'd dallied in various crafty endeavors like quilting and painting, but it was her thirst for storytelling that really stuck. In her own words, "Life is good and at 62 years of age…I'm finally getting going."
BUDDHAPUSS INK LLC is based in Edison, NJ. Founded in 2009, it is led by publisher MaryChris Bradley, a thirty-year veteran in the book industry. "Our company mission is to put readers first, and we are committed to finding and growing new authors at a time when the major houses seem to have turned their backs on writers without an already well-established track record or movie
credits to their name."
Bradley can be contacted at Publisher@BuddhapussInk.com. www.BuddhapussInk.com Website
http://buddhapussink.blogspot.com Company blog
@Buddhapuss on twitter
Buddhapuss Ink on Facebook

---
Buddhapuss Ink is
G R O W I N G
Two New Book Releases in Three Weeks!
On June 4th we will release Mariam Kobras's fourth book, the highly anticipated prequel to her Stone Trilogy, Waiting for a Song, Naomi's Story!
Mariam is a three-time Independent Publishers Book Award medalist, having taken one Bronze and two Silvers (one for each of her previous titles).
From the author:
"Writing Waiting for a Storm was like taking a vacation for me, like a fresh breath of fragrant, summer air after the sad darkness of dealing with 9/11 in Song of the Storm. I wanted to go back and explore the days when Jon and Naomi meet for the first time, meet the people who were there then, see the whole story–because there was so much more going on than they tell us in the Stone Trilogy.
I wanted to meet Naomi's girlfriends, Jon's troupe, the people who went on that first tour through Europe with him, and I wanted to meet Naomi's parents before she ran away.
This is the story, then: Waiting for a Song tells the story of Naomi as a young girl dreaming of love and romance, of being released from a repressive home, and taken away across continents and oceans to a new life, and freedom.
She finds all that when she hears Jon's voice on the radio, and realizes that she is the one who will give him the words he needs for his songs."
Follow Mariam as she travels the world on her Virtual Tour.
Leave a comment on the posts on each blog and earn entries in our giveaway.
On our blog, Mariam's Author page or the Buddhapuss Ink page on Facebook you can click on the giveaway link for more ways to earn entries.
---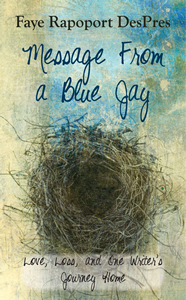 On May 14th, we released MESSAGE FROM A BLUE JAY by debut author, Faye Rapoport DesPres, to great reviews like this one from author Laben Hill:
"In Faye Rappaport DesPres's Message from a Blue Jay, life is hard. Her father survives the Holocaust and is forever haunted. Despress survives cancer and must accept never having children. Her Mother-in-Law refuses to accept that she is dying from brain cancer, but still succumbs. In these beautifully-wrought essays there are seemingly no rewards, but there is hard won satisfaction and snatches of happiness like the late winter sun breaking through the grey winter sky. This collection of exquisitely personal essays is unsparingly authentic and deeply fulfilling."
~ Hill is the author of more than 25 books, including the 2004 National Book Award Finalist Harlem Stomp: A Cultural History of the Harlem Renaissance.
And author Joy Castro had this to say:
"Faye Rapoport DesPres' collection Message From a Blue Jay compresses a lifetime's worth of thoughtful observation and earned wisdom into openhearted, warm, searching essays that seek—and find—balance between autonomy and relationship, the spiritual and the sensuous.  A beautiful and moving debut."
~ Castro is thr author of The Truth Book: A Memoir, Nearer Home, Hell or High Water, and Island of Bones.
Faye's book sold out the first day at Amazon and is already in it's second prnting!
---
FOR IMMEDIATE RELEASE
May 2, 2014
Mariam Kobras Wins Third Independent Publisher's Book Award

Song of the Storm Takes the 2014 IPPY Silver Medal
Buddhapuss Ink LLC announced today that Mariam Kobras, of Hamburg, Germany, has won the 2014 Independent Publisher Book Awards' Silver Medal in Romance for her book: Song of the Storm: Book III of the Stone Trilogy. Kobras said she was "stunned and crazy happy" with the news. Song of the Storm released in July 2013. This is Kobras' third book, and third IPPY. Her first book, The Distant Shore: Book I in the trilogy took the Bronze in 2012, and her second book, Under the Same Sun, Book II took the Silver last year. "Winning three years in a row…even I'm speechless!" said Buddhapuss Ink Publisher, MaryChris Bradley. "Her writing is lyrical, lush, and gorgeous. We extend our heartfelt congratulations to Mariam for this third well-deserved award! "

Song of the Storm continues the story of Jon Stone, rock superstar, and Naomi Carlsson, the girl he loved, lost, and found again. The story focuses on Jon and Naomi as they deal with her high risk pregnancy, and Jon's desire to leave his life on the road to settle down and write a Broadway musical. The real story though, is what happens on September 11, 2001, to Jon, Naomi, their families, and friends as they are thrown into the storm that enveloped New York City, the country, and the world on that day. "9/11 was, and always will be, a defining day for those who lived through it," said Bradley, "whether they were in NYC or were watching it unfold outside their window or sitting halfway around the world in front of their television or computer screens."

For Kobras, "This novel was a piece of my heart, a gift of love to my friends who had to walk through those dark hours in New York City and who bear the scars even today. I tried to tell their stories the way they told them to me. Driving through Manhattan with them, walking down the streets, visiting the spots where they were on September 11, 2001, brought home the depth of that tragic day in a way that no documentary, no image can. These are the stories of real people, my friends, people I care for a lot, people I love. I incorporated them into Song of the Storm and let the characters tell them in their own voices. By sharing their stories I hope to help them let go of at least some of their grief."
Born in Frankfurt, Germany, Mariam and her family lived in Brazil and Saudi Arabia before they decided to settle in Germany. She attended school there and studied American Literature and Psychology at Justus-Liebig-University in Giessen. Today she writes and lives in Hamburg, Germany, with her husband, two sons, and two cats.

BUDDHAPUSS INK LLC is based in Edison, NJ. Founded in 2009, it is led by Publisher, MaryChris Bradley, a 30 year veteran in the book industry. "Our company mission is to put readers first. We are committed to finding and growing new authors at a time when the major houses have abandoned writers without an already well-established track record or movie credits to their name."
Bradley can be contacted at Publisher@BuddhapussInk.com.
www.BuddhapussInk.com Website  •  http://buddhapussink.blogspot.com Company blog
@Buddhapuss on twitter  •  Buddhapuss Ink LLC on Facebook
---
THREE WEEKS TO BOOK LAUNCH!
It's three weeks to launch day for Faye Rapoport DesPres and her book: Message from a Blue Jay - Love, Loss, and One Writer's Journey Home.
Have you preordered your copy yet?
Need help deciding?
Here's a tantalizing little snippet from the chapter; No One Watches the Old Lady Dance . . .
"I've been told that life is less painful if you stay in the present, dismiss the past, and avoid thoughts of the future. Be here, now. So I try to stay here, with my breath and the smoke and the sky and the sun on my skin. But memories beat their fists at my door and beckon through the windows with crooked fingers. I am tempted and give in; my mind slips out."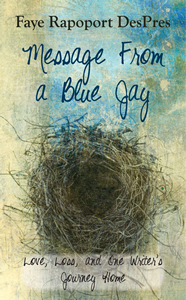 Can Wisdom be Found in a Big Red Suitcase?
Buddhapuss Ink LLC Signs Book That Could be Called: Eat, Pray, Pack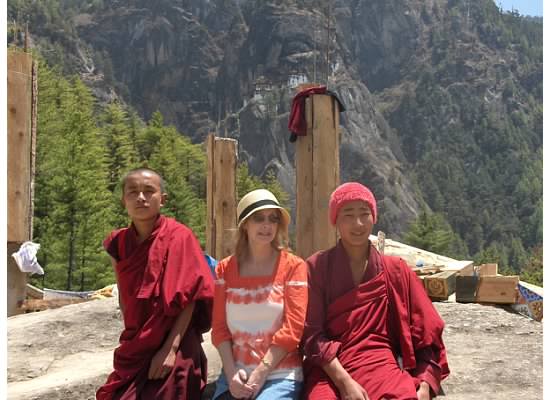 FOR IMMEDIATE RELEASE
April 14, 2014
Can the trip of a lifetime, planned with an eye to perfection, wind up making you seriously question your whole life? Can a suitcase as big as its owner, and stuffed with everything but the kitchen sink, become one's greatest teacher?
Those questions, and more, will be answered in the latest book signed by Buddhapuss Ink LLC, Wisdom of the Big Red Suitcase: Finding What Matters in a World of Stuff. As the author, Ellie Dias, puts it: "Nearly every step of my journey was fraught with challenges, disasters and detours." Dias traveled solo to the towns and farmlands of Bhutan, Nepal, Tibet and into the Nepalese jungle, dragging a humongous, red suitcase behind her all the way, turning her "trip of a lifetime" into an ongoing test of patience, determination, and fortitude—and most importantly—learning to let go.
"Mid-life I discovered my passion for Buddhism, and began my spiritual practice. It wasn't long before I developed an intense curiosity about the traditional cultures of Asia. I wanted to see firsthand just how the people in the "Lands of Happiness" fare. Are they truly at peace, totally content in their various lives, regardless of their station in life or level of prosperity? An obsessive-compulsive perfectionist, I began the adventure with over-the-top preparations. I wouldn't leave a single thing to chance, lugging with me everything (and more) I thought I'd need just to get through the day, halfway round the world, fashion foremost. Enter the Big Red Suitcase, weighing in at 95 pounds and stuffed to capacity with what I was sure a Western woman bound for the farmlands and jungles of the Himalayas must have."
Buddhapuss Ink will release Wisdom of the Big Red Suitcase on their Fall/Winter list of 2015. "Readers who enjoyed Eat Pray, Love by Elizabeth Gilbert, or Kristine Stevens'If Your Dream Doesn't Scare You, It Isn't Big Enough, will find a new favorite in Big Red," said MaryChris Bradley, Publisher. "The manuscript was an immediate hit in-house, especially among those of us who have experienced the pitfalls of well-laid travel plans."
Dias has been a dedicated practitioner of meditation, contemplation, and yoga, for over thirteen years. A professor of Human Biology and Anatomy & Physiology, she has merged her understanding of the human body, with the daily practice of meditation, incorporating it in a classroom setting. She started a local women's spirit group focusing on Buddhist philosophy and thought, and has been sharing excerpts of her manuscript with various writer's groups over the past two years. Currently, Dias is busy writing her first novel. She lives in New England's 5 college area known as the "Knowledge Corridor" with her husband. Wisdom of the Big Red Suitcase is her first book.
COMING SOON
Cover reveal for Counteract, May 6th
Message from a Blue Jay release, May 14th
Waiting for a Song, Naomi's Story release, June 3rd
Submission Call for Mystery Times 2014!
BUDDHAPUSS INK LLC is based in Edison, NJ. Founded in 2009, it is led by Publisher, MaryChris Bradley, a 30 year veteran in the book industry. "Our company mission is to 'Put readers first' and we are committed to finding and growing new authors at a time when the major houses seem to have turned their backs on writers who don't already have a well-established track record or movie credits to their name."
Bradley can be contacted at Publisher@BuddhapussInk.com.
www.BuddhapussInk.com Website
   http://buddhapussink.blogspot.com Company blog
@Buddhapuss on twitter     Buddhapuss Ink LLC on Facebook
COVER REVEAL

Message From a Blue Jay - Love, Loss, and One Writer's Journey Home
From an astonishing blue jay to a lone humpback whale, from the back roads of her home town to the streets of Jerusalem and the Tower of London, debut author Faye Rapoport DesPres examines a modern life marked by a passion for the natural world, unexpected love, and shocking loss, and her search for a place she can finally call home in this beautifully-crafted memoir-in-essays.
Mystery Times 2013 Winners Announced!
Get all the info here!
The conclusion to the Stone Trilogy from award-winning author, Mariam Kobras,Song of the Storm is available in paperback and kindle editions.
When dreams come true for some and worlds crash for others, when friendships are tested and true love is found at last--that is the Song of the Storm.
The conclusion of the award-winning Stone Trilogy brings the love story of Jon and Naomi full circle; with some things lost and some things gained, they discover the true value of love and family, and the high cost of survival in our world today.

BACK COVER EXCERPT

"With a sigh, he turned around. There she was: Naomi, a slender, fragile woman with fair skin and black, curly hair, big, dark eyes, and a lovely mouth, the vision of all his dreams, the heart of all his songs, his reason for being alive. He could close his eyes, and his hands would be able to trace her shape in the air, every curve and angle, every breath. . . .
They had come so far, through so many trials, and here they were, in calm waters, as if every song of the storm had been sung, and were only memories now."

Advance Praise for Song of the Storm:

"[A]s well-written as the two previous books. Mariam tugged my heartstrings, made me feel I was inside the story, and left me wanting more. This is one I will want to reread." ~ Sharon Allert

"Kobras drops readers straight back into the emotionally taut lives of Naomi and Jon, leaving us breathless from the first scene. She knows how to unfold a story, leaving us curious and anticipating every delicious revelation. As if that weren't enough, she provides the gift of beautifully constructed sentences the kind that demand we stop and savor the moments of her characters lives. With lush writing and perfect pacing, Kobras really delivers with this storytelling feat." ~ Johanna Harness, author of stories for young people set in the American West

"It brings new depth to the saga of Jon and Naomi and continues to delight with well-written prose that captures the reader's imagination." ~ Delores Hipps, television producer, WSET ABC13
Be sure to check out Mariam's blog site where she's hosting other new authors. But, before you go, take a break and read the first three chapters of her new book:
Released in March of this year to outstanding reviews, Buddhapuss Ink has pledged to donate 10% of the first year's profits from Sweet William to the Coalition for the Homeless! Help us help those who are living on the streets. At the same time, you get a great book and it's just $2.99. Now that's a WIN WIN!
A novella by Martie Odell Ingebretsen, Sweet William will capture your heart.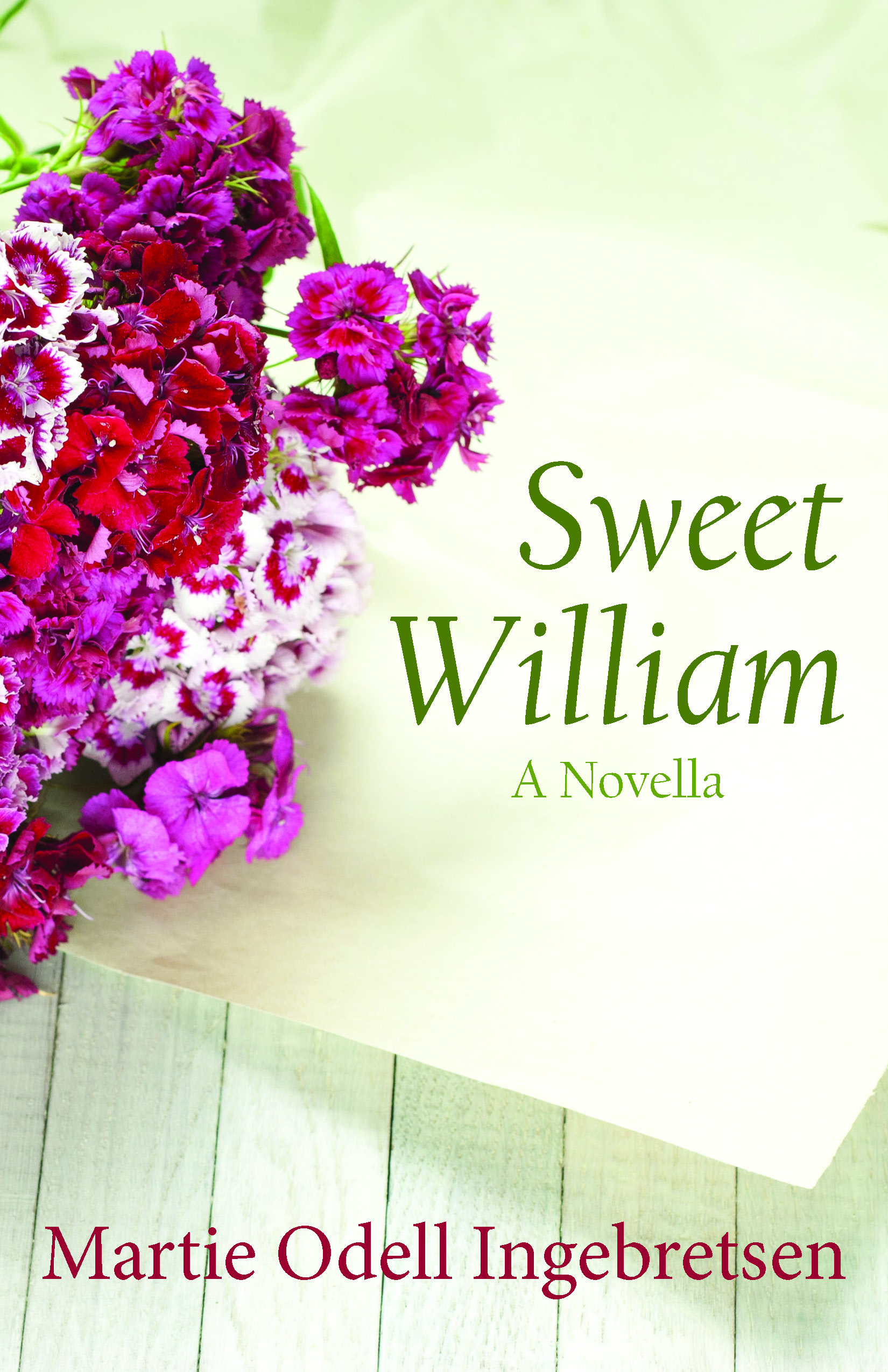 William was a happily married father, working as a mechanic when his life begins to slowly unravel.

Since the tragic deaths of his wife and young son, William has been trapped in a circle of depression, grief, and homelessness. When William is picked up on suspicion of child molestation, is it just more bad luck, is it the catalyst that will allow him to open the door to the past and, at long last, accept it and the love of the people around him? Slowly, life welcomes William back, and he is ready to embrace it once more.
Martie was born in Pasadena, California. She studied English literature, creative writing, and child development at various universities. Inspired by her father—whose stories were published in The Saturday Evening Post—she has been writing since the second grade. She strives to create characters who are always learning, growing, and trying to find answers to big questions. Her poetry has been published in journals, magazines, and various anthologies. She and her husband currently live in California, as do their two sons and four grandchildren. Sweet William is her first novella.
Other News:
The Distant Shore by Mariam Kobras hit #1 on Amazon's Women's Fiction list in February this year.
The Last Track by Sam Hilliard, was #1 on the Amazon Top 100 Suspense List in February. Watch for an upcoming promotion featuring this book in late October! Sam told us to tell his fans that he is working on the second Mike Brody book now!
Watch the trailer, read the first chapter!
But wait - There's more!
We will be posting the rules and submission call for NEW writing competitions here and on our blog, so get those pens and pencils ready.
Well, that's it for now.