And the winners are . . .
Chosen from over 200 submissions, these ten mystery short stories come from new and established authors alike. Never before published, they are gathered together in our First Annual Mystery Times Ten YA collection. Each story was read and rated by three panels of judges, which included book bloggers, teen readers aged 12 to 19, and YA buyers and marketing mavens from the largest book wholesalers in the United States. Each judge was given the same set of parameters to use; each brought his or her own unique talents and tastes to the task at hand.

There is something for every YA mystery fan, from hardboiled to paranormal. Each story is a small bite of mystery that will satisfy and delight even the most discerning of readers. So sit down and dip in. We guarantee you won't stop at just one!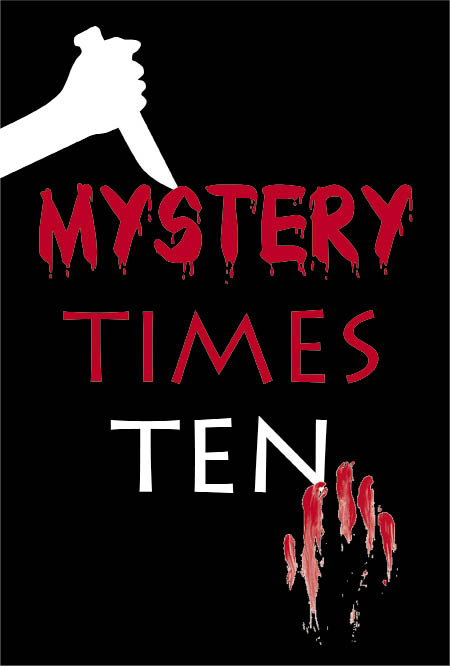 All winners of our 2011 Mystery Times Ten YA Short Story Competition will
receive:
Two (2) copies of the finished book and the opportunity to "fast track" their next Young Adult or Middle Grade manuscript with our Editorial staff
And they are:

Johanna Harness for her story Cherry Bomb

J.A. Souders for her story Toothless

Kirsty Logan for her story Sea of Trees

Elyse Dinh-McCrillis for her story Submerged

KC Sprayberry for her story Falsely Accused

Barb Goffman for her story Truth and Consequences

Melanie Cummins for her story Frost

And the Top Three Winners are:
The THIRD PLACE winner will also receive a $75 Gift Card, featured placement in the book, and a Buddhapuss Ink tote filled with swag is
Addie King for her story Poltergeist on Aisle Fourteen.
The SECOND PLACE winner will also receive a $100 Gift Card, featured placement in the book, and a Buddhapuss Ink tote filled with swag is
Wendy Sparrow for her story Passing Notes.
AND a drum roll please!
The FIRST PLACE winner who will also receive a NEW Kindle, featured placement in the book, and a Buddhapuss Ink tote filled with swag is
Cecilia Dominic for her story The Coral Temple.
Congratulations to all our winners and huge thanks to our Judges:
Meet the Judges!

YA Book Blogger Panel:
Danielle Smith, aka The1stdaughter from the children's book review site There's A Book, is a reader, reviewer, and writer of books of all varieties.
Kristina Guidroz aka Cajun Book Lady on the site where she reviews her favorite genres: young adult, paranormal/fantasy, romance, and horror.
YA Teen Panel
Caleb G is a sophomore honors student and an avid reader. His shelves are full of fantasy and science fiction books, which inspire his own writing.
Katy H is a senior honors student who always has a book in one hand and two more on her TBR pile. She is a cheerleader and is looking forward to starting college in the fall.
Connor M is a seventh-grader, an avid reader, soccer player, video game fanatic, Boy Scout, and band student, and he spends his spare time with friends and family.
Jessica G is a freshman, an avid reader who loves paranormal, mystery, thrillers and anything else she can get her hands on.
Madison M just finished eighth grade and will be attending an all-girl high school next fall. Her friends call her room "the library" because she has so many books. She plays soccer and enjoys teasing her younger brothers.
And our fantastic Editorial Review Panel
Erica Sommer Karcher works for Baker & Taylor's Children's and Teens Services and writes reviews for Visual Bookshelf.
Joan Apgar worked for a major book wholesaler for 26 years, 15 of those as a Children's and YA Book Buyer.
They did a fabulous job so let's have a round of applause for them all!